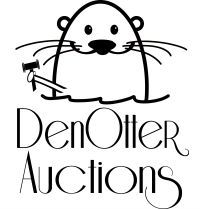 Weekly Auctions of Exceptional Items
Upcoming Auctions
Reviews
Past Auctions
Record Results
Upcoming Auctions from Denotter Auctions, LLC
Bidder Reviews for Denotter Auctions, LLC (265)
8 Latest ReviewsSee All
Stefan
Park Ridge, Illinois
The best
They bend over backwards to make you happy.
Thomas
Grayslake, Illinois
Excellent auction house!
Always helpful, interesting items, easy to deal with!
Rob
Lake Hopatcong, New Jersey
Great Collector Items
I found quite a few rare and unique items here.
They were great! I am new at the auction stuff, they were very helpful.
I sent my own prepaid package and they called to confirm information and packaged my stuff in a different box so it would fit better. They were very helpful and very nice.